A hospital project in Cincinnati, Ohio, utilized EFVM testing for final watertightness verification of a hot-rubber membrane approximately 25,000 sq. ft. in size.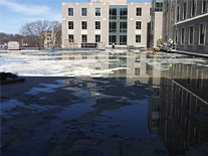 Due to the occupied hospital space below and the elaborate paver system above, ensuring 100% waterproofing was the highest priority. The consultant on the project requested that a flood test and an EFVM® test be completed prior to the overburden installation.
Once the waterproofing was completed, a 48-hour flood test was performed and the area was deemed watertight. ILD® was called in immediately after the flood test in March 2011 to complete the EFVM® testing. After the EFVM® test, over 50 breaches were located within the membrane, which were found to be mainly due to mechanical damage. Unlike a flood test that only shows a membrane's ability to hold water, the EFVM® test is a pinpoint-accurate test that confirms watertightness, or, in this case, a test that located potential active leaks.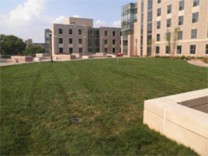 EFVM® testing gives an exact location, making repairs simple and quick without any additional inspections required from the contractor. As per ILD®'s standard, a report was issued to the roofing contractor listing all breach locations and a plan drawing as well for reference. Once all repairs had been made and retested, all of the overburden was put in place and the plaza deck was completed.
The ILD® Vector-9 conductor wire remained in place to allow for future testing, should any damage occur prior to the expiration of the waterproofing warranty. The same pin-point testing will be possible through the pavers and miscellaneous vegetation in the future.
International Leak Detection
Trusted by the Best.